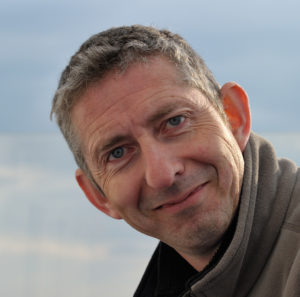 During the 2014 World Cup, Xavier signed up for a floating blind camp in Dombes. After an 8-hour drive, he arrived at the lodge at the Château de Joyeux in the Ain, with Yves Adams, a compatriot from northern Belgium, as his guide.
This week of internship was physically "exhausting" but very refreshing at the psychic level. Get up between 3:30 a.m. and 4 a.m. to be on the lookout, before sunrise, return to the lodge around 11:30 a.m. for dinner, then a big nap to return to the lookout around 5 p.m. for a return for dinner around 11 p.m.
A superb experience to get into the water with waders, inside a floating blind that allows you to get as close as possible to the birds. With a proximity, which sometimes no longer allows you to take pictures. It's amazing how birds are not afraid when we're on the water's edge, hidden by the lookout.
This approach allows for some unimaginable shots of the water's edge. Progression with the waders is not always very easy, because depending on the water level, progression can be done on the knees or even almost crawling, as in the photo of the white stilt.
When there was a Belgian match and Yves and Xavier were on the same level of water, they discussed the outcome of the match with the talkies. With 2 Belgians out of the 6 trainees, Yves and Xavier did not hesitate to bring beers from the country to share them and make them discover. A week of internship is also about sharing and conviviality.
This first experience and these first shoots in a floating lookout were a very nice experience with some very nice encounters on the water but also on the human level.