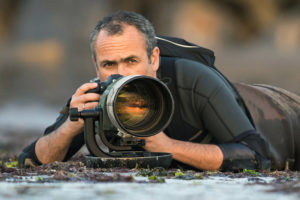 Born in 1968, Asturias, where he lives and works as a primary school teacher trying to instill in his students a love for nature.
In contact with photography since he was thirteen years old when his father gave him his first SLR and with the arrival of digital photography he began with photography of birds, which is his passion today, trying to show an artistic vision of them. He lives near the Cantabrian coast, a great place to photograph seabirds and their migrations. Since the last fifteen years he has spent many hours photographing these traveling birds, and he has specialized in them.
He has worked with nature magazines, newspapers and various national and international publications. He has also participated in various exhibitions and lectures on bird photography. He has been awarded in most of the most important international nature photography competitions: National Geographic Nature Photographer of the Year, Big Picture, Asferico, Montier, Glanzlichter, GoldenTurtle, Festival de l'Oiseau, Nature's Best Photography, Memorial María Luisa, Ambid, Isle of May photo Competition, FIO, SEO, Terre Sauvage Nature Images Award, Big Picture, Nature photographer of the year, Bio Photo Contest, Namur Photo Aves, Festival de la Camargue, Bird Photographer of the Year… He has also been a judge in several international nature photography competitions. Also at present, he is a jury of the Princess of Asturias Awards.
He is an active member of AEFONA, but what he is most proud of is having been the founding partner of AFONAS, the society of nature photographers of Asturias in which he is currently its president.