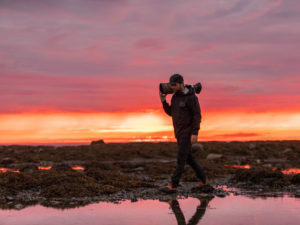 The Earth and its wild nature have always been in constant change, but the last decades bear witness to a profound upheaval and this, everywhere on the planet. Canada and Quebec are no exception; with their immense area and a large portion of their territory which is northern, we can observe the impact of these changes and the increased human presence in several ways, particularly on wildlife.
In this exhibition, I present to you the regions of Bas-Saint-Laurent and Gaspésie, where the mountains border the Saint-Laurent, one of the largest and deepest estuaries in the world. A part of Quebec that is rich in biodiversity, both at sea and on land, with the presence of animals whose population is stable, such as the Canada Lynx or the harbor seal.
You will also discover species that feel the pressure of change and of humans and that are threatened, such as the beluga (St. Lawrence population), the woodland caribou, mountain ecotype, whose habitat is shrinking every year, harp seal, which struggles to find stable pack ice to give birth to during the winter season. Good immersion in the rich Quebec fauna.