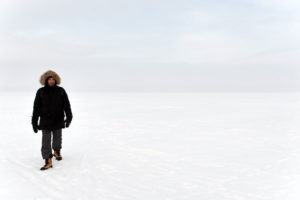 Olivier Jarry-Lacombe, self-taught photographer and globetrotter in love with wide open spaces.
I have always dreamed of exploring the "northern territories", those located beyond the Arctic Circle and the 66th parallel, on the borders of the lands of the Sami, the last indigenous people of Europe.
This was done in 2017, when I embarked, in a van, on my first crossing of the Nordic countries over more than 10,000 km.
Since then, these countries with unique atmospheres and generous nature have never left my mind. I would even say that they obsess me and I look forward to going back there every year, to soak up the power released by the place, to nourish myself with the encounters I have made there.
I therefore invite you through this exhibition, built over the last 5 years, to discover these mystical lands where the cold, the long and harsh winters, the sometimes difficult living conditions are not enough to mitigate the virtues and grandeur of the places. .
Follow me, and come and explore breathtaking landscapes and drink in the polar colors, which force those who venture there to fall in love with the place forever…
Ready?