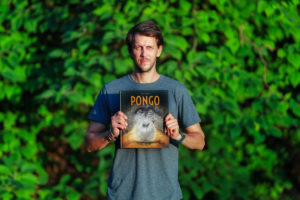 The orangutan is a fascinating species, so close to us that it cannot leave us indifferent. The "Man of the Woods" takes us back to the origins of man. His gaze and his attitude pierce us and move us. Our cousin of the hominid family, has kept his freedom to live in harmony in nature for millions of years. But for how long?
Unfortunately, over the past twenty years, its territory has been shrinking drastically and exponentially. In barely 25 years, more than 75% of Indonesia's forest has disappeared in favor of oil palm plantations! The three species of orangutan it harbors are now critically endangered and if deforestation continues at the current rate, our cousins ​​could disappear from the planet in the years to come …
Resulting from the investigative and field work carried out by Maxime during several years within an Indonesian NGO, this exhibition invites the public to discover the fascinating life of Sumatran Orangutans, their way of life, but also the challenges of their preservation.